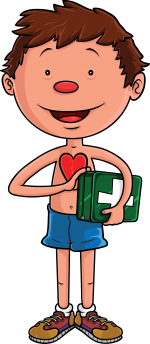 This is a 60 - 75 contact minutes.
First Aid for Young people aged 4 - 9 years which covers:
How to get help.
When to call 999.
How to check if someone is breathing.
How to help someone who is choking.
The theory of how to deliver chest compressions using the Flat Stan manikins.
How to deal with burns.
How to deal with bleeding.
How to deal with a nose bleed.
Have fun with bandages and slings.
On successful completion of the course a Flat Stan booklet & sticker will be issued to each child attending.
Derwent Training Consultants Ltd is accredited by - FAIB 1142/92/130